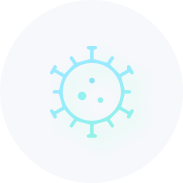 COVID-19
Multiplexed CDC 2019-nCoV Real-Time RT-PCR Diagnostic Panel
At Discover Labs, we test for Covid-19 using Polymerase Chain Reaction (PCR) technology to detect genetic material specific to the 2019 Novel Coronavirus. We understand the importance of identifying cases as quickly and accurately as possible.
Our scientists have developed a high-throughput, multiplexed version of the CDC 2019-nCoV Real-Time RT-PCR Diagnostic Panel. Our panel maximizes efficiency while boasting superior sensitivity and an identical limit of detection.
This allows for the earliest possible detection of the disease, which is extremely valuable in treating and combating the spread of Covid-19.
Order Here